Methods to perform late-stage C–H alkylations are highly valued because these reactions generally must be mild and tolerated by many substrates.
Because of these constraints, often the scope of such reactions is limited. This makes the new metal-free, photocatalyst-, and light-free method described by the Lee group an important advance.1
All of the reagents/reactants in the Lee method are abundant, stable, nontoxic, inexpensive and readily available as seen in the reactions in Tables 1 and 2. Under the optimized conditions, a carboxylic acid acts are the alkylating agent in the presence of ammonium persulfate in DMSO/H2O. Of note, the reaction only works in DMSO!
With nitrogen heterocycles (Table 1) the reaction generally gives good to excellent yields. (There are a few substrates where the yields are below 50%. For instance, the presence of a carbon–carbon pi bond in the carboxylic acid substrate negatively impacts the yield.)
With 1,4-quinones (Table 2), the yields also generally good, with 1,4-benzoquinone being the only substrate with a disappointing yield of 27%. As can be seen with naphthoquinone, the substrate can be mono- or dialkylated by increasing the amount of the carboxylic acid, the oxidant, and the reaction time.
Table 1: Optimized Conditions for the Alkylation of N-Heteroarenes and Substrate Scope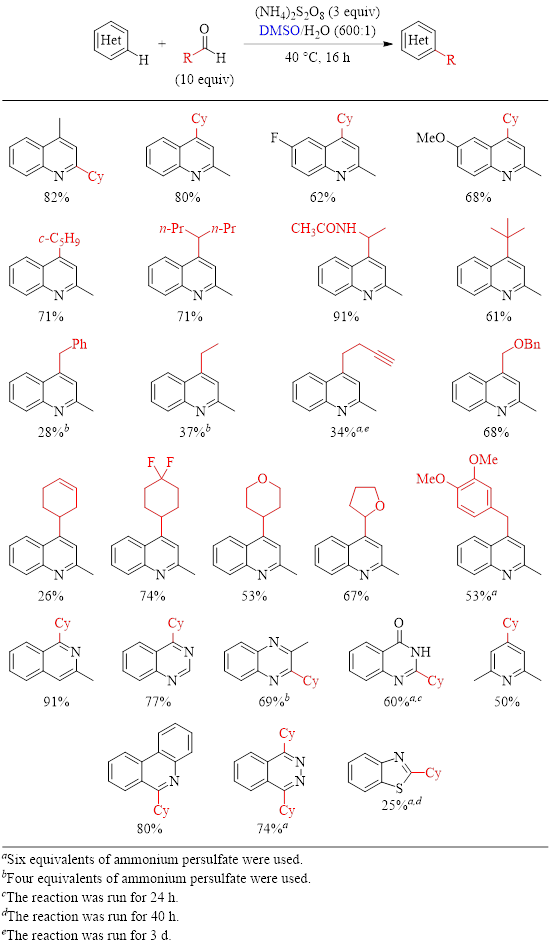 Table 2: Optimized Conditions for the Alkylation of 1,4-Quinones and Substrate Scope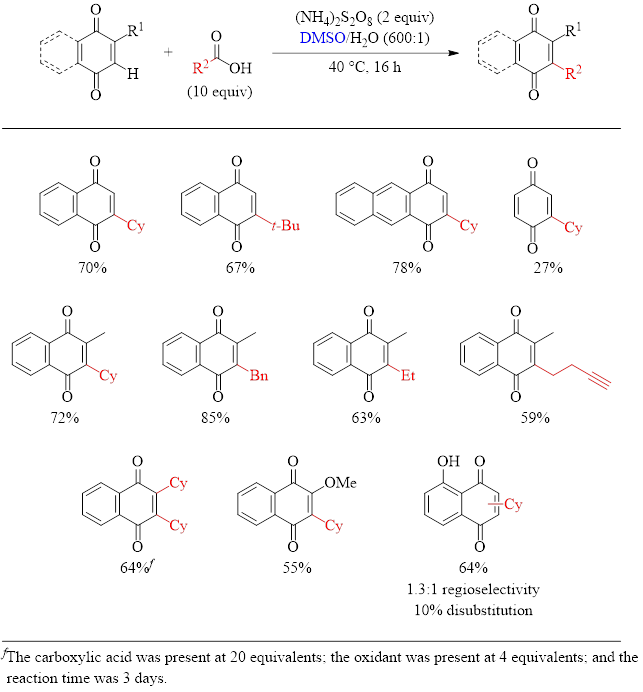 The reaction in Equation 1 demonstrates the utility of the method described in this paper. These researchers were able to synthesize an analogue of the antispasmodic drug papaverine with excellent isolated yield using their optimized conditions.
Equation 1: Synthesis of a pharmaceutical analogue.

In conclusion, this work demonstrates a simple, mild, economical, and relatively green pathway to important alkylated nitrogen heterocycles and quinones. This method does not require prefunctionalization or metal or photocatalysts and all the reactants and reagents are readily available and cheap. This makes this an attractive reaction for C–H functionalization of heteroarenes and quinones.
Debra D. Dolliver
References
1 Sutherland, D. R.; Veguillas, M.; Oates, C. L.; Lee, A.-L. Organic Letters 2018, 20, 6863.